GIGI and Bella Hadid are among the most famous models in the industry right now – but did you know about their stunning plus-sized cousin?
All credits – Instagram,Debenhams,Mail
Jo-Ann van de Herik, 21, is (you guessed it!) a model from the Netherlands with oodles of confidence.
The 19-year-old 'plus-size' model has been busy carving her own path in the fashion industry, promoting body acceptance on her Instagram account and landing her own completely unretouched lingerie campaign with Debenhams. We caught up with Joann to get her thoughts on body confidence, the realities of Instagram and her Victoria's Secret aspirations.
The stunning blonde not only graces covers of magazines, she's also amassed an impressive TikTok following of 445,000 thanks to her enviable looks and body positive message.
The model frequently shares sultry videos of herself dancing, posing in fabulous outfits and acting out funny skits on the video sharing app.
Jo-Ann is the daughter of Leo van de Herik, the brother of Yolanda Hadid, who is Gigi and Bella's mum.
Unlike her cousins, who both have long and lean physiques, Jo-Ann was blessed with a curvy hourglass figure and ample cleavage.
Taking aim at beauty standards, the stunning Dutch native doesn't hold back when it comes to showing off her wobbly bits.
In on TikTok, she writes: "When people say they don't like fat girls," while dancing to a song with the lyrics, "I'll be honest I don't really understand it."
In another Joann, who is 5″10 and wears a UK size 16, shows off her stomach while mouthing along to a song with lyrics about not caring about your weight.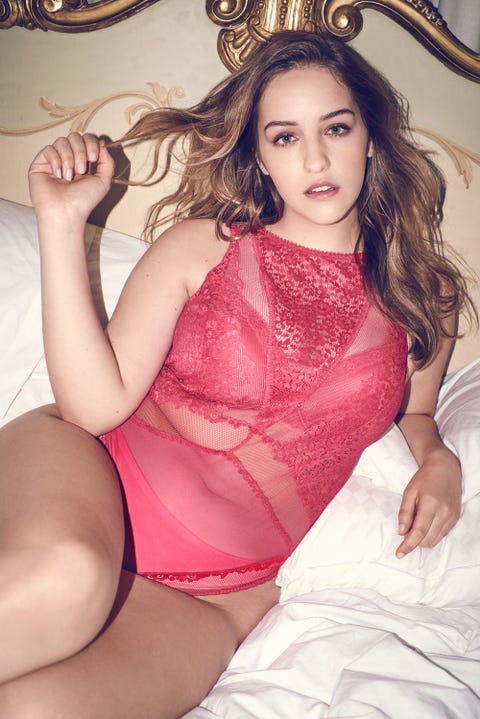 The curvy beauty, who looks remarkably like both Gigi and Bella, receives thousands of likes and comments every time she posts.
Joann was the face of Debenhams lingerie line and refused to let anyone airbrush her photos.
Speaking on the gig,she said: "I've always wanted to be a model but didn't realise that there was a market for my shape and size.
"I think it's very important to show all the boys and girls out there that size doesn't matter and that you're perfect the way you are.
"I translate that into my work as a model and on social media. I'm a strong believer in body-positivity and that everybody is beautiful."
Gigi and Bella Hadid's cousin, plus size model Joann Van Den Herik, has showcased her curves in lingerie for a stunning new lingerie shoot, to champion body confidence.
The Netherlands-based model, 20, who is a UK size 16, posed in a series of revealing underwear shots for SLiNK magazine.
The model is the daughter of Yolanda Hadid's businessman brother Leo van den Herik, and is close to both her famous supermodel cousins, regularly sharing pictures of them on her Instagram.
A champion for body positivity she shared her thoughts on self image with SLiNK – claiming it is important not to compare yourself to others.
The model spoke about how changing your mindset is a great first step to body confidence, changing 'negative thoughts into positive thoughts.'
Speaking to the Slink magazine she said: 'Whenever I'm really insecure about some part of my body, I just think: "But does it really matter?".
'Does it make me less of a human? Or just look at it another way and focus on the beautiful parts.'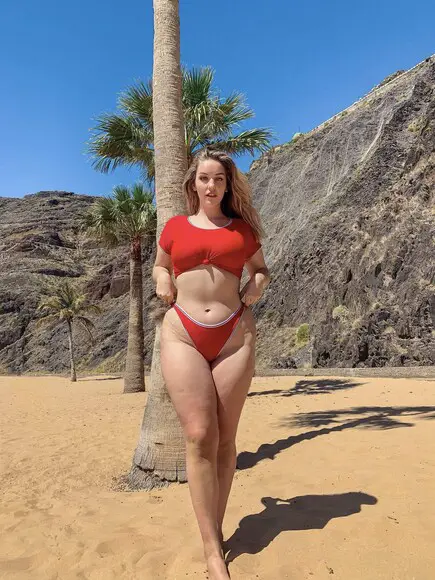 It's Joan's raw, honest attitude and gorgeous girl-next-door looks that have helped her become the most in-demand plus-size model of the moment.
And, good looks clearly run in her family – the 19-year-old's cousins are Gigi and Bella Hadid, her businessman father Leo is their uncle.
She's currently signed to UK modelling agency 12+ UK Model Management and has been chosen by Debenhams to be the face and body of their Spring 2018 Gorgeous DD+ lingerie collection.
One exclusive, un-airbrushed shot shows her seductively lying on a bed while wearing a pretty white lace two-piece and denim shirt.
"I never thought it was possible because of my size," she said. "In high school there were a lot of kids telling me that I should lose weight because I would be prettier that way. It made me really insecure.
"People said so many mean and awful things to me just because I was 'fatter' than them. I'm just happy it made me stronger and I'm doing something about it now."
Joann has become a poster girl for body positivity. In addition to the glamorous, full make-up shots that feature on Instagram, she regularly posts refreshingly honest, behind-the-scenes images to inspire her 74,400-strong following.
A recent post for example, shows her makeup-free, tummy rolls exposed with the caption "I want to show you all that even people with many followers can look and feel like sh*t. People on Instagram aren't perfect. You're not alone."
"My role model is Iskra Lawrence, she inspired me to spread body positivity in the first place!" she said.
"Loving yourself is the greatest revolution ever. Try to accept your insecurities by looking in the mirror and naming positive things, dancing in your underwear, changing your mind-set to a positive one. I know it's difficult but you can do it!"
With such modelling pedigree in the family it's no surprise Joann is a natural in front of the camera. "Gigi and Bella have taught me to always be kind to everyone you meet and hardworking!" she said.
Joann's aspirations are to follow in Gigi and Bella's stylish footsteps and walk for Victoria's Secret. "It's like a dream. But only if they start supporting curvy models within their brands," she said.
Joann is "neutral" about the term plus size, but wouldn't mind if it fell out of fashion.
She said: "To the fashion industry, our size is plus size. But to the world, our size is a general size.
"I would rather see people calling plus size models just models but I don't hate using plus size model."
All credits – Instagram,Debenhams,Mail